About
The Luminous Green workshops are intended for people who don't mind getting their hands dirty and their paradigms shifted.
You can find notes from the workshops in 2007 here, photos from the Hands-on workshop here and photos from the Expert Gathering here.

Hands-on Workshop 2007
The Luminous Green hands-on workshop has been conceived for artists and designers using electricity in their work. The tutorial focused on the following topics: power generation, renewable power sources, low-power computing and audiovisual displays. The workshop was lead by Slovenian artist Marko Peljhan, facilitated by FoAM's PI Maja Kuzmanovic and attended by Belgian and international artists and designers from the 1st until the 4th May 2007. The workshop ended with an Open lab, a participatory event where the interested audience could meet the participants, chew over their experiments, relax and learn, play and chat in the informal setting of the FoAM studio.
Workshop Leader: Marko Peljhan Marko is the coordinator of 'Project Atol', 'Makrolab', as well as 'Insular Technologies', a high-frequency global radio network initiative. From 2005 onwards he is coordinating the design for the Arctic and Antarctic Makrolab projects in the framework of the Interpolar Transnational Art and Science Consortium I-TASC. In 2000 he received the special Medienkunst prize at the ZKM, in 2001 the Golden Nica Prix Ars Electronica together with Carsten Nicolai and in 2004 the second prize of the Unesco Digital Media Art Award.
http://interpolar.org/
Expert Gathering
During the last weekend in April, FoAM organised an expert gathering in the form of an 'Open Space' retreat. It aimed to seek out integrated approaches to current environmental and ethical challenges, particularly focusing on the role of art, design and creative practices. The retreat encouraged the participants to learn from each other, forge new partnerships, enforce existing initiatives and design from multiple perspectives. Designed based on Open Space principles, the gathering focused on skills and knowledge sharing, collaboration and creativity. The participants included selected experts from the fields of design, culture, economy, technology, science and politics.
Facilitators: Maggie Buxton and Maja Kuzmanovic
Workshop programme 2007
Workshop Programme

27 - 29.04.2007

Expert Gathering

01.05.2007

Hands-On Workshop Introductions


02 - 04.05.2007

Technical Tutorials and hands-on experiments

05.05.2007

Open Lab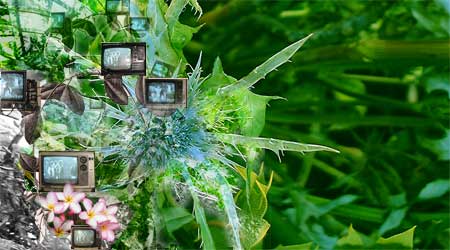 If you are interested in becoming a participant in the Luminous Green hands-on workshops in the future, please contact us through info.at.fo.am
illuminations
Even though it's clearly impossible and intellectually fraudulent in some strict sense, somebody ought to "predict the future." I mean, not just do demographic models and some dry corporate trend forecasting, but actually wrap the future up in a big-picture package and sprinkle some Tinker Bell dust. That job really needs doing. --Bruce Sterling
The best way to predict the future is to invent it --Alan Kay